MEET NUIT
Nuit is just as sweet as a Frenchie can be! This baby looooves being held, but if you put her down, she will hop up and down and act crazy!
Our little dark beauty came from two of our best friends, Billy Covalucci (CampCovo French Bulldogs) and Matthew Dover (Bella Luna French Bulldogs) from Massachusetts. I met Nuit's mom, the gorgeous India (CampCoco Bella Luna's Ready for Love) when I visited the boys for the first time and was picking up Blush back in 2012. I fell in love with her, I tried stealing her, I cried, I begged, but no luck! However I was promised an India clone and when India had babies, there she was... That sweet face with beautiful upsweep of underjaw, round eyes and a "pick me up" expression, better than I could have ever dreamed! Combining India's lines with Mr. Big (Can / Am GCH Frenchkisses Mr Big - who is also our Blush's father!), there came Nuit, custom made for me. Love!
Nuit was shown in Canada in 2014 and quickly finished her Championship, becoming our first Canadian Champion! Go baby! She will be shown in the USA in 2016.
I would like to thank my dear, dear friends Billy and Matthew for trusting me a piece of their hard work that they have been doing for our breed throughout the years.
Juvenile Hereditary Cataracts - clear
Degenerative Myelopathy - clear
Heart - Normal
Patellas - Normal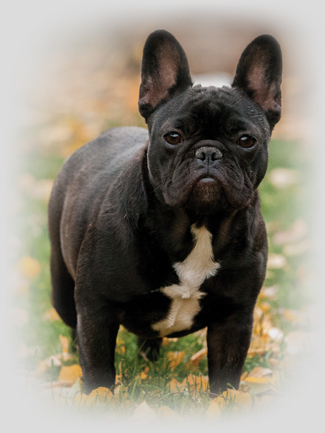 Bred by: Billy Covalucci & Matthew Dover
Owned by: Vivianne Mello, Billy Covalucci & Matthew Dover
Birthday: April 17, 2013

SHOW HISTORY

Nuit finished her Canadian Championship in a very short time with best of breed wins and group placements and will soon debut in American rings!

PHOTO ALBUM


NUIT'S PEDIGREE (see it on ingrus)
am/can ch. comepatabull's ready to rumble
can ch. robobull simply sin gin
AM/CAN CH. XCLUSIVE DE LA PARURE
AM/CAN CH. FRENCHKISSES MR BIG
CAN CH. LECHATEAU'S ARCHIBALD
Can ch. lechateau's hot-n-sassy
LEIBOLL'S YAMILE
am/can ch. robobull fabelhaft xcelsior
am gch. robobull fabelhaft will i am
robobull fabelhaft eternal flame
caMPCOVO BELLA LUNA'S READY FOR LOVE
AM/CAN CH. SHADY HARBOR'S CAPO DEI CAPI
AM CH. campcovo's life in the fab lane
AM CH. CAMPCOVO'S LADY OF THE NIGHT OF Q-HAVEN