MEET ELLIE
Ellie's history starts years before she was alive. Years before even her parents were alive. It began with me, giving my first steps in this lifestyle / craziness we call "breeding and loving french bulldogs". I had stumbled into a picture of a gorgeous french bulldog. He looked very different from any french bulldog I had ever seen, and yet he looked just right, everything a french bulldog should be. Back then, I didn't know why I liked him so much, I just knew I did.
Months later I finally found where the picture came from. It was from a breeder in Denmark, and the dog was no other than her Gokke (DKCH Daulokkes Roquefort). Mesmerized by her french bulldogs and their quality, years later the stars finally aligned and the planets were at the right angles, and... Today, Ellie is the result of all I have ever worked for, planned and dreamed of.
Picking her up in Denmark was a bright spot in my "breeding life" and I hope she is the beginning of many other wonderful things to come my way. Ellie is sweet, she will choose any lap and human attention over playing with other dogs. She is very unaware of dogs giving her attitude and always believes that everyone and everything loves her (which is quite true, I tell her every chance I can get!).
Our grattitude and appreciation goes to her breeder, Tove Rasmussen, for sharing a piece of her hard work with me.
Juvenile Hereditary Cataracts - clear
Degenerative Myelopathy - clear
Heart - Normal by OFA
Patellas - Normal by OFA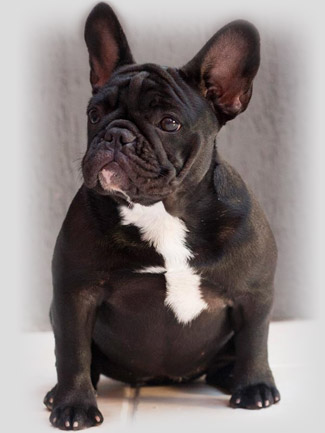 Bred by: Tove Rasmussen
Owned by: Vivianne Mello & Fernanda Barlow
Birthday: April 27, 2012

SHOW RECORD
(September 2nd 2012) - Brazilian Baby Champion (Campeã Brasileira Inicial) ~ On her first show ever, Ellie got excellent from three judges at the KCEC shows in Fortaleza, CE - Brazil and is now a Brazilian Baby Champion! We look forward to showing her soon.


PEDIGREE - DAULØKKE'S XARABELLE (view on ingrus)
dkch. daulokke's aristobeau du tex
midland moor armani code
dkch. daulokke's zuzette du nord
Daulokke's rodin le heros
dkch. fripon van de paterhoek
daulokke's korinne la blance
daulokke's vogue la blance
dkch. daulokke's sedeux le superbe
dkch. noch. dkkv 2009 daulokke's elisir d'amore
dkch. dech. daulokke's raffine
daulokke's que sera-sera
grand chef texas-tex
dkch. daulokke's aristobelle du tex
dkch. noch. klubch. daulokke's nordique haut-couture