MEET BLUSH
Blush always had lots of attitude. When I picked her up in Ohio, she was quick to show me she would always let me know what she wanted. Time has passed and she's turned out to be an amazing young lady, with a presence wherever she goes.
She is sired by Canadian Champion FrenchKisses Mr Big. Big's father is a litter mate to the ever famous Am/Can CH. Robobull Fabelhaft Xcelsior "Romeo". Blush's dam, Fanny (American & Canadian Champion, and 2008 French Bulldog Club of America Independent Specialty Winners Bitch Robobull Fabelhaft Fan the Flames), Fanny, is a personal favorite of mine. Not only is Fanny sired by the amazing Dante (BIS BISS CH Robobull Fabelhaft Inferno), but she is also a litter sister to the history making Bru (BISS American & Canadian CH Robobull Fabelhaft I'm On Fire, Westminster Group Winner). That pedigree alone made me carry a huge smile for weeks before I actually got her.
With ears always ready and alert, a very playful and concentrated expression, and a round booty waiting to shake and fall at your feet, this girl is the perfect mix of funny and sweet.
In October 2012, I took Blush to accompany me on my annual trip to the USA for the French Bulldog National Specialty. Blush, then, at the tender age of 7 months, stole the scene and won her huge class of 6-9 puppy bitch. Not satisfied, she went on to win Winners Bitch, Best of Winners and Best Puppy in Specialty Show, under the expert judge Ms Michelle Billings, handled by our dear friend Matthew Dover. Blush beat well over 100 french bulldogs that day and got her first points towards her American Championship. After this accomplishment, she debuted "for real" on February 2013, and in April was already an American Champion, collecting wins in some of the strongest show rings around the US and getting some Best of Winners and Best of Opposite Sex wins. So proud!
Thank you James Dalton and Shelley St John, Blush's breeders, for letting Blush come to me. She is everything I ever hoped for and more.
Juvenile Hereditary Cataracts - clear
Degenerative Myelopathy - clear
Heart - Normal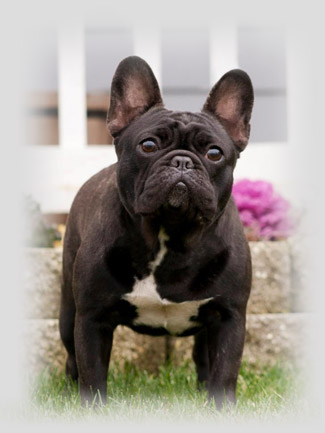 Bred by: Shelley St John & James Dalton
Owned by: Vivianne Mello & Fernanda Barlow
Birthday: March 4th 2012

SHOW RECORD
(April 28th, 2013) - Winners Bitch and Best of Winners in Richmond, RI ~ Blush gets 2 more points and is the newest AMERICAN CHAMPION! We thank the judge Mrs. Monica Canestrini for this victory. In the same ring, the Best of Breed was Blush's father, Am/Can CH. Frenchkisses Mr Big, that moved on to get a Group 4! Thank you to our dear friend and Blush's handler Matthew Dover for all of the accomplishments with our pretty girl. After well deserved vacations, Blush will move on to her next challenge...

(April 27th, 2013) - Winners Bitch, Best of Winners and Best of Opposite Sex in Richmond, RI ~ Blush gets 2 more points today in Richmond! Under the judgement of the renowned Mr. Robin L. Stansell.

(April 19th, 2013) - Winners Bitch in Springfield, MA ~ Blush gets another 2 points and is getting close to her American Championship... Thank you to judge Mr. Kenneth A. Buxton for the recognizement.

(March 14th, 2013) - Winners Bitch at the Louisville Circuit, KY ~ Getting her second major, of 4 points, Blush was Winners Bitch at this show. We thank the judge Mrs. Kathleen M. Grosso!

(February 9th 2013) - Reserve Winners Bitch at FBDCA Regional Specialty (NYC - Pre Westminster) ~ Under the judgement of Mr. James G. Reynolds (Canada), Blush was reserve Winners Bitch in one of the largest specialties of the breed in the US. She almost did it...! On the second day of show, her father got RWD starting his career in the USA (he is already a Canadian CH).

(October 25 - 26 2012) - Best of Winners & Best Puppy in Show at FBDCA National Specialty ~ At her very first time out in the USA, Blush was handled to victory at the French Bull Dog Club of America National Specialty by our friend Matthew Dover. She placed Best of Winners and Best Puppy in Show under expert judge Michelle Billings, for a 5 pt major, taking her first step towards her American Championship, for a day we shall never forget.

(September 1st 2012) - Brazilian Baby Champion (Campeã Brasileira Inicial) ~ Blush was 4th Best Baby in Show twice at the KCEC shows in Fortaleza, CE - Brazil and is now a Brazilian Baby Champion! Great way to start her show career. Thank you to Brazilian judges Andréa Blumen and Carlos Flaquer.


BLUSH'S PEDIGREE (view on ingrus)
am/can ch. comepatabull's ready to rumble
can ch. robobull simply sin gin
AM/CAN CH. XCLUSIVE DE LA PARURE
AM/CAN CH. FRENCHKISSES MR BIG
CAN CH. LECHATEAU'S ARCHIBALD
Can CH. lechateau's hot-n-sassy
LEIBOLL'S YAMILE
AM/CAN CH. JUSTAMERE'S GOLDEN BUDDHA OF FABELHAFT
MULTI BIS BISS AM/CAN CH. ROBOBULL FABELHAFT INFERNO
AM/CAN CH. XCLUSIVE DE LA PARURE
can ch. robobull fabelhaft fan the flames
MULTI INTERNATIONAL CH. TEXAS BOY V FIVELZIGHT
AM CH. ESCAPADE DE LA PARURE
CACHAREL DE LA PARURE